Compared with Other Methods
---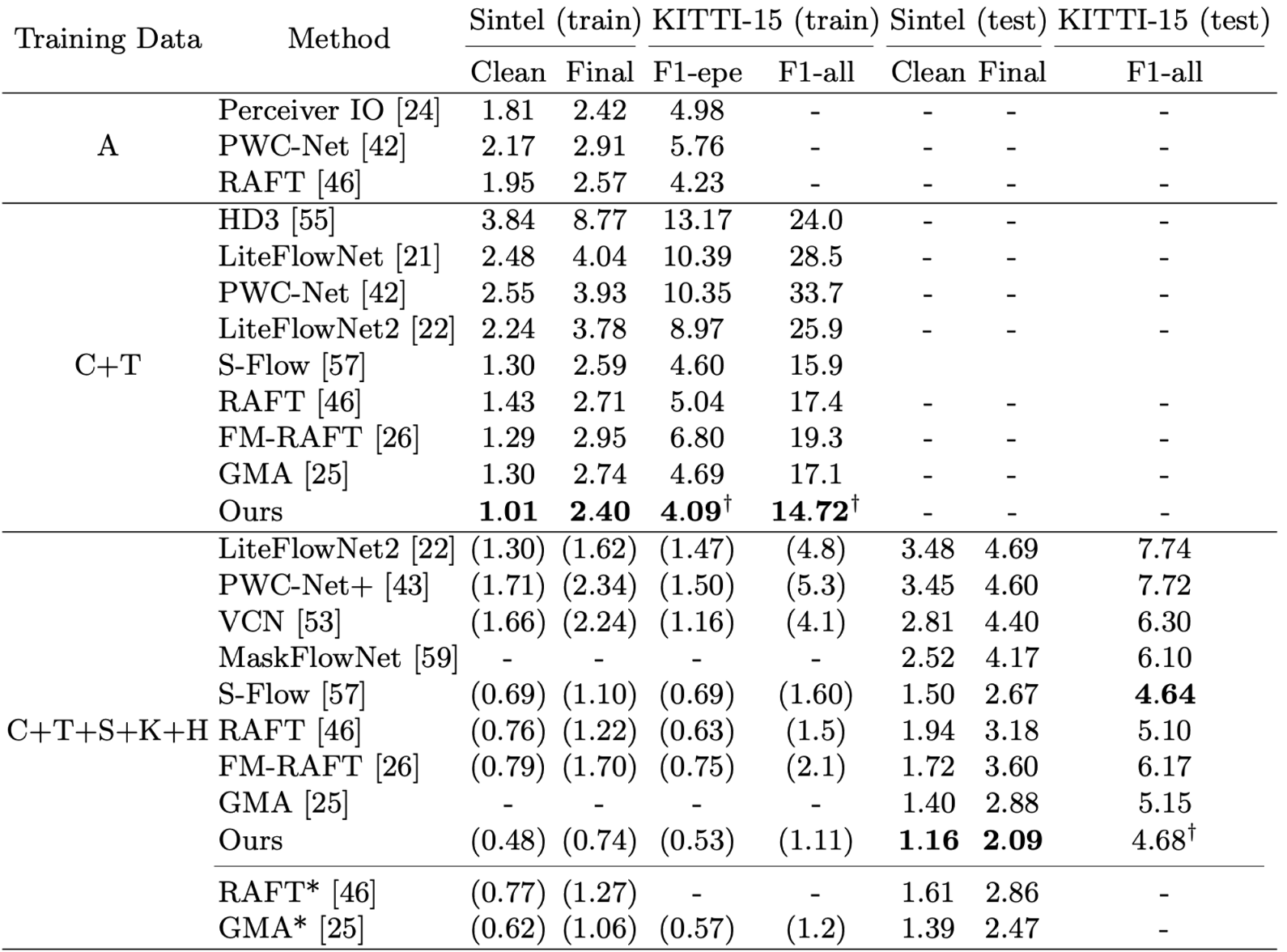 * denotes that the methods use the warm-start strategy. † means the result is evaluated with the tile technique.
Generalization Performance
We train FlowFormer on the FlyingChairs and FlyingThings (C+T), and evaluate it on the training set of Sintel and KITTI-2015. This settings evaluates the generalization performance of optical flow models. FlowFormer ranks 1st among all compared methods on both benchmarks. FlowFormer achieves 0.64 and 1.50 on the clean and final pass of Sintel. On the KITTI-2015 training set, FlowFormer achieves 4.09 F1-epe and 14.72 F1-all. Compared to GMA, FlowFormer reduces 50.4% and 45.3% errors on Sintel clean and final, and 13.9% errors on KITTI-2015 F1-all, which shows its extraordinary generalization performance.
Sintel Benchmark
FlowFormer achieves 1.16 and 2.09 on the Sintel clean and final, 16.5% and 15.5% lower error compared to GMA*, which both ranks 1st on the Sintel benchmark. It is noteworthy that RAFT* and GMA* use the warm-start strategy that requires image sequences while FlowFormer does not. Compared with GMA, which also does not use the warm-start, FlowFormer obtains 17.2% and 27.5% error reduction. From RAFT v.s. RAFT* and GMA v.s. GMA*, we can see significant error reduction from the warm-start strategy especially on the final pass. RAFT trained on the autoflow dataset~(A+S+K+H) significantly outperforms RAFT trained on the C+T+S+K+H on final pass because autoflow provides training image pairs that are more challenging. We believe training FlowFormer with autoflow can achieve better accuracy but it is not released yet.
KITTI-2015 Benchmark
FlowFormer achieves 4.68, ranking 2nd on the KITTI-2015 benchmark. S-Flow obtains slightly smaller error than FlowFormer on KITTI (-0.85%), which, however, is significantly worse on Sintel (31.6% and 22.5% larger error on clean and final pass). S-Flow finds corresponding points by computing the coordinate expectation weighted by refined cost maps. Images in the KITTI dataset are captured in urban traffic scenes, which contains objects that are mostly rigid. Flows on rigid objects are rather simple, which is easier for cost-based coordinate expectation, but the assumption can be easily violated in non-rigid scenarios such as Sintel.